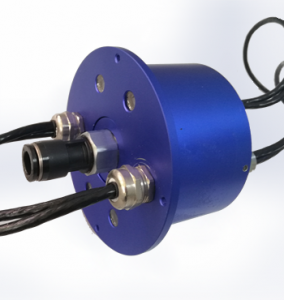 A hybrid slip-ring is latest technology that enter into the field of Electrical Power and Data Transmission field. An electric slip-ring which is combined with fiber optic, coaxial, high frequency and rotary unions is known as Hybrid slip-ring. So, a single assembly unit that is composed of two or more slip-rings is known as Hybrid Slip-ring. Automation and technological machine are communicating via industrial network in modern environment. As a result, there is a high demand of reliable slip-rings for secure transmission of the electrical power and data in the field of industrial environment. A slip ring can be utilized in any electro mechanical framework that requires intemperate, irregular or nonstop rotation while transmission of the data or power. Latest components are used in order to ensure very low noise,  no loss of packet and stable performance.
For a customized solution, you may consult with our expert in order to provide you most suitable recommendations that would meet your requirements.
Rundown of uses where slip rings are utilized is practically perpetual. Applications are found from the profundities of the oceans to the space and between.
Applications
A hybrid slip-ring is used to safely transmit the electrical signals and data with stable performance.
CCTV Equipment
Crane
ship propulsion systems
Rescue Vehicle